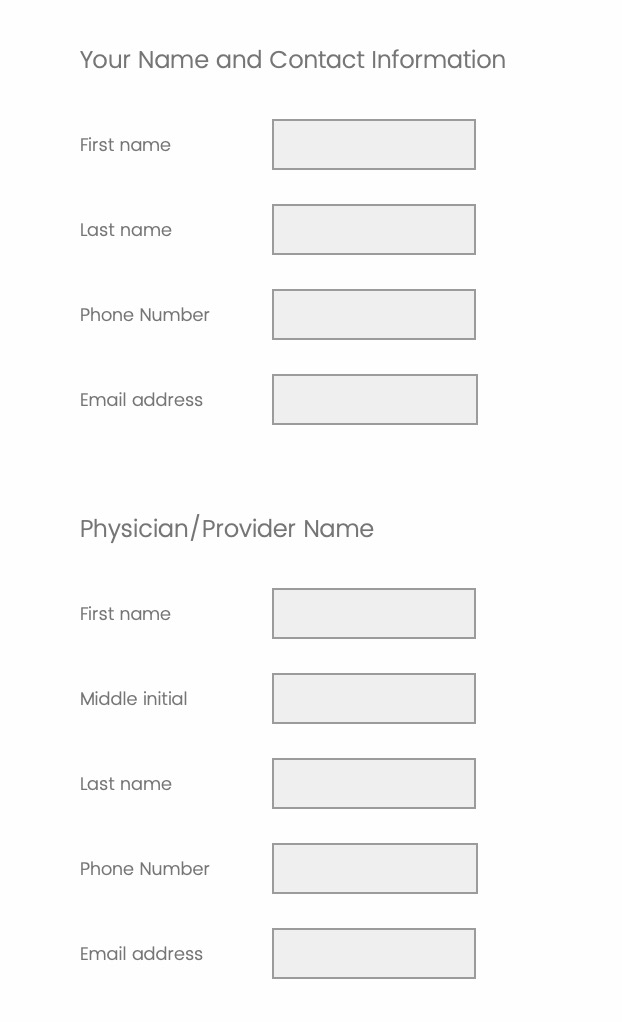 click to fill in the form
UPDATING SOON:

Massage Therapists: Research on combining copaiba + deep blue: https://www.sciencedirect.com/science/article/pii/S1744388118304079?via%3Dihub
Doctors can contact Ezra Segura at esegura@pmhcmail.com
Nurses: There is a FB group for oil loving nurses. They hold annual symposiums each fall:
https://www.facebook.com/groups/essentialoilnurses/

Information on PH: https://www.doterra.com/US/en/brochures-magazines-doterra-living-winter-2019-prime-meridian-health-clinics.

Doctors add contact info to healthcare.doterra.com AND the pmh ppt I posted to my leader units
For all queries related to doTERRA's healthcare initiative (Prime Meridian Health Clinics), we recommend doctors contact customersupport@pmhclinics.com.
If they have questions on incorporating oils into their care facility, please have them contact Emily Miller emilmiller@doterra.com.
To join the private Facebook Group for doctors, doctors can email admin@eophysiciansforum.com. It's not a very active group, but it's a great place for docs to post clinical questions.
Physicians can also reach out to dōTERRA directly via email: healthprovidersupport@doterra.com
If they are simply looking to learn more about the science behind essential oils, we typically recommend the following resources:
Aromatic Science (http://www.aromaticscience.com/) is a compendium of peer-reviewed essential oil studies. The studies are searchable by body system, essential oil, and constituent type.
dōTERRA Science Blog (https://www.doterra.com/US/en/blog-science) is a great resource when learning about the latest research on essential oils and clinical trials being done by our scientists here at dōTERRA.
The recently released dōTERRA Essential Oil Chemistry Handbook (https://view.joomag.com/ebooks.../0164882001518721621...) is a convenient guide to help you learn about the basic chemistry of essential oils and how to use them.

Clinical Aromatherapy by Jane Buckle goes into detail on how to incorporate essential oils into a medical practice and the benefits therein.

Source to You (sourcetoyou.com) contains information on the purity of dōTERRA essential oils.
RESEARCH:
https://www.esciencecentral.org/journals/essential-oils-and-future-antibiotics-new-weapons-against-emerging-superbugs-2329-8731.1000105.php?aid=14230
https://jscholarship.library.jhu.edu/bitstream/handle/1774.2/39480/RIVERS-THESIS-2016.pdf?sequence=1&isAllowed=y
https://www.ncbi.nlm.nih.gov/pubmedhealth/PMH0032645/
https://www.ncbi.nlm.nih.gov/m/pubmed/23537749/
https://www.omicsonline.org/open-access/essential-oils-and-future-antibiotics-new-weapons-against-emerging-superbugs-2329-8731.1000105.php?aid=14230
https://www.researchgate.net/profile/Nicholas_Boire/publication/253567306_Essential_Oils_and_Future_Antibiotics_New_Weapons_against_Emerging%27Superbugs%27/links/02e7e51f925d7367d6000000/Essential-Oils-and-Future-Antibiotics-New-Weapons-against-EmergingSuperbugs.pdf?origin=publication_detail
http://journals.plos.org/plosone/article?id=10.1371/journal.pone.0113682
http://www.academia.edu/1097534/Influence_of_Some_Citrus_Essential_Oils_on_Cell_Viability_Glutathione-S-Transferase_and_Lipid_Peroxidation_in_Ehrlich_asciteCarcinoma_Cells
https://www.esciencecentral.org/journals/essential-oils-and-future-antibiotics-new-weapons-against-emerging-superbugs-2329-8731.1000105.php?aid=14230
https://jamanetwork.com/journals/jamapediatrics/fullarticle/2676167
dentists:
FAQ with a dentist that has integrated doTERRA:
In your practice, do you ever apply oils topically on patients, for relaxing or anything else?
We diffuse the oils in the office. I have recommended topical application to some patients to help with anxiety (Balance, Lavender, Serenity, Citrus). In a dental office that is a spa type setting or just wants to be different and set themselves apart, it would be really cool to have a dental assistant trained to do a "Aromatouch Hand Technique" on patients before their procedure. You could also give each patient a "menu" that shows several different oils their properties then put a drop on their bib, or behind their ears.
I know clove can be used for tooth pain. Do you ever use that for procedures? What do you think is the most painful procedure that clove could be used for exclusively?
It sounds like your doc is already working with this…here's my typical response below...
I would not bring this up with the dentist, yes clove is good for tooth pain, but that is only a "bandaid" until you can get it taken care of at the dentist. I have patients that have used clove as their anesthetic, but I would not recommend this. Also, you need to be aware that the eugenol in Clove oil will inhibit the bonding agents dentists use to bond fillings or crowns or veneers onto your teeth. After the bonding is complete, the Clove/Eugenol will NOT effect the bond.
I know the Oils can be used for cleaning as well. Do you use them for cleaning anything, or sterilizing any equipment?
I have not seen enough documentation on whether the oils as a surface antiseptic meet OSHA standards. I would have to look into this further and see what the requirements are. As for sterilizing equipment I think dentists should stick with using their Autoclave to guarantee sterility. I recommend running a diffuser at night with OnGuard as an added line of defense.
Do you use or promote peppermint or other oils as a mouth wash?
I recommend patients use a drop of peppermint and 2 drops of OnGuard in a Tablespoon of water. You can also add Melaleuca and Myrrh. Swish for 30 seconds and spit. I feel this is a great alternative.
Now that we have OnGuard Mouthwash, I prefer it to a homemade blend. Why? It has all the oils, plus the Xylitol is incredibly important for oral support and maintaining a healthy pH in the mouth. Your doctor with already be well aware of this.
I imagine you promote the On Guard toothpaste. What info or experiences do you think a dentist would like to hear about that?
Yes, especially for patients with periodontal disease or requesting a fluoride free option. We have seen significant improvement to patients with Periodontal disease who are treated with Scaling and Root Planing, followed by using OnGuard Toothpaste daily. (Now I would also add OG mouth rinse) When coupled with Lifelong Vitality Pack healing is increased even more. (Studies show antioxidant supplementation is beneficial in treating periodontal disease) I have included some studies and documentation on OnGuard Toothpaste. Some dentists will be concerned that it does not have fluoride. Tell them it has Calcium Hydroxyappatite as the active remineralizing agent to replace fluoride. They can, with confidence, recommend it to all patients, and especially those that ask for a fluoride free toothpaste.
I hope this helps, don't hesitate to reach out if you need clarification on anything.
DENTAL RESEARCH:
https://www.ncbi.nlm.nih.gov/pmc/articles/PMC5703870/
http://www.dentalhypotheses.com/article.asp?issn=2155-8213;year=2013;volume=4;issue=4;spage=115;epage=117;aulast=Rajesvari

Written in 1964 by Louis Lasagna, Academic Dean of the School of Medicine at Tufts University, and used in many medical schools today.
I swear to fulfill, to the best of my ability and judgment, this covenant:
I will respect the hard-won scientific gains of those physicians in whose steps I walk, and gladly share such knowledge as is mine with those who are to follow.
I will apply, for the benefit of the sick, all measures [that] are required, avoiding those twin traps of overtreatment and therapeutic nihilism.
I will remember that there is art to medicine as well as science, and that warmth, sympathy, and understanding may outweigh the surgeon's knife or the chemist's drug.
I will not be ashamed to say "I know not," nor will I fail to call in my colleagues when the skills of another are needed for a patient's recovery.
I will respect the privacy of my patients, for their problems are not disclosed to me that the world may know. Most especially must I tread with care in matters of life and death. If it is given me to save a life, all thanks. But it may also be within my power to take a life; this awesome responsibility must be faced with great humbleness and awareness of my own frailty. Above all, I must not play at God.
I will remember that I do not treat a fever chart, a cancerous growth, but a sick human being, whose illness may affect the person's family and economic stability. My responsibility includes these related problems, if I am to care adequately for the sick.
I will prevent disease whenever I can, for prevention is preferable to cure.
I will remember that I remain a member of society, with special obligations to all my fellow human beings, those sound of mind and body as well as the infirm.
If I do not violate this oath, may I enjoy life and art, respected while I live and remembered with affection thereafter. May I always act so as to preserve the finest traditions of my calling and may I long experience the joy of healing those who seek my help.