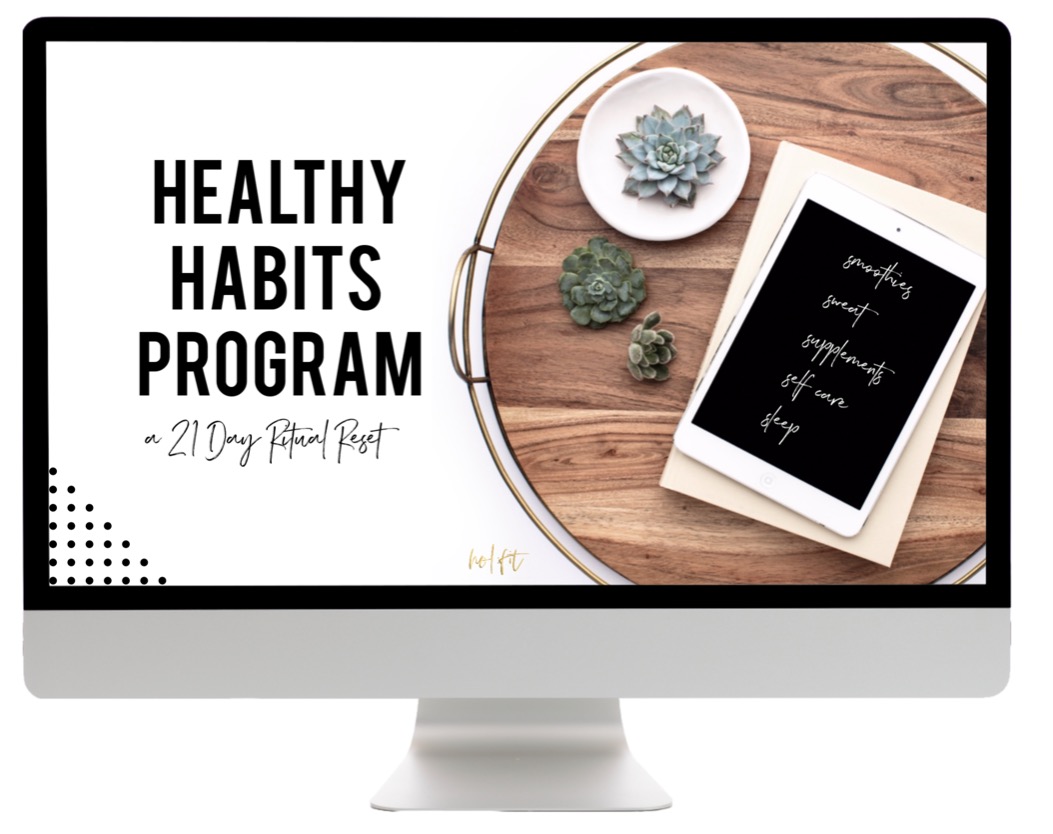 Through the purchase of the Healthy Habits Kit, you will receive instant + lifetime
access to the Healthy Habits Program.
1. PURCHASE THE HEALTHY HABITS KIT
You'll need to have all of the products in the Healthy Habits Collection to participate.

If you're not yet a customer on the HOL:FIT team:
👉 Click Here (if someone on our team sent you here - ask for their ID)
👉 Choose the Wholesale Customer option.
👉 The Enroller + Sponsor ID box should already be filled for you but if it isn't, enter 697139 in the sponsor box and HOLFIT Inc. will appear.
👉 Choose the Healthy Habits enrolment kit and add any additional items you wish to have for your lifestyle reno, to your cart at the 25% off price. I've made some suggestions in the checklist below 📦
👉 Finalize your shipping + payment and click "Process Order Now"
On the very last screen, it will ask you if you'd like to join the optional monthly Loyalty Rewards Program which I refer to as my wellness box.

If you're already a customer on our team, you can log in to add this collection to either a 1x order or as part of your LRP wellness box
2. join our facebook group
This is where all the action will take place throughout the program!

In the UNITS section of that group, you will find your program eBook, videos, clean eating recipes,
shopping lists + more!

📌 Note: There will be 3 questions you will need to answer to be granted access to the group.
3. MARK THESE DATES down
Every June, this program will run for you as a guided version with prizes as follows:

👉 June 1- 3: Order your healthy habits kit + any additional items you want from the list below

👉 June 3 @ 2pm est: Join Ange + few other leaders for a kick off in our healthy habits group
(it will stay as a recording in the group if you can't attend live)

👉 June 10 - 30: We reset together!
other items to consider:
We've designed this program to help you anchor a routine that will create the next level of health for you, using the products in the Healthy Habits Kit.

So that is all you need to order if you'd like access to this program.

However, throughout the program we also make recommendations of other powerful products + oils to have to support the various areas of your lifestyle such as deeper sleep, more natural self care + stress management ... the full lifestyle renovation 📦

If you want to have these before we begin on June 10, order by June 3rd.

Here's the list 👉