how to purchase
at 25% off

doTERRA is sold online + through various retailers at full price, but anyone can access wholesale pricing so it doesn't make sense to purchase full price!
I want to show you how to purchase at wholesale which is 25% off …
This is the same pricing I have


As a wholesale customer, you'll be able to shop online whenever you want at 25% off.
There are no monthly minimums but if you ever do want to start ordering monthly, they have a brilliant monthly rewards program.

If you want to get started, click below …
Or if you want to read about the current promo + the exact steps to open up your account, keep on scrolling …









Current Promo:
I've created this perfect starter kit for Back to School which includes your
wholesale purchasing access for a full year whenever you want to shop!
Here is a blog post I wrote for you about using this in your back to school routine:












Simple steps to setup your account:
👉 Click Here to open up your wholesale customer account.
If you are planning to purchase the Back to School kit highlighted above, I've created this cart for you
👉 Fill in your account info. My referral ID should be filled in for you, but if it isn't, enter Ange Peters, province of Ontario or my ID which is 697139
👉 Select which start kit you'd like to order. If you'd like to add any other items to your cart - you can or you can proceed to checkout. 📌 Note: All the pre-set starter kits that doTERRA has featured on the kit screen are bundled at a lower price + have the wholesale access pass bundled in already
👉 Finalize your shipping and payment options.
Click "Process Order Now & Continue" On the very last screen, it will ask you if you'd like to join the optional Monthly Rewards Program. You can set this up at a later time if you wish, or you can plan a custom 📦 to arrive next month. What most of our customers do is choose one area to focus on each month as we've outlined in the our Wellness Box Guide.













Want to see all the products?



























Here's what the screens look like:












Price Lists + Starter Kits by market:

I'm excited to welcome you to our HOL:FIT oil community!
All the links + resources below will be in the welcome email I send you …

frequently asked questions:
Q1. What does it mean to be a wholesale customer?
---
To become a wholesale customer, you can open up your access by either purchasing a starter kit which has the wholesale access pass bundled in. Or by just purchasing the Intro Booklet which is just the wholesale access pass. This gives you a full year of purchasing doTERRA at 25% off whenever you want to shop. There is no business oppourtnity attached to this. 90% of the 7 million+ people in doTERRA are wholesale customers.
Q2. Will I have to purchase monthly?
No, you can purchase whenever you want from your personal doTERRA store at your 25% off price. The only reason you would order monthly, would be to join the monthly rewards program where you would earn free product + free shipping each month.
Q3. Aren't essential oils just pretty smells?
The ones at the mall, gas station or big box store will be basically just that (if that). With doTERRA - you are purchasing the distillation of purest aromatic compounds in plants. They are what many of us would consider our first level of health + selfcare. You'll come to experience this too with time!
Q4. There are so many brands claiming to do what doTERRA does, but cheaper. How can I trust doTERRA?
You're right ... there are many claims out there now. Here's the truth: doTERRA is one of very few big brands that is changing the world in a positive way through their business model + practice. As the largest essential oil company in the world, they are the only essentail oil company that pursues purity, quality + sourcing with integrity. There is simply no other company going to the efforts that doTERRA is to ensure you are receiving the highest quality essential oil. You'll want to watch this: https://youtu.be/PcRRp0viqVw
Q5. How do I become a wellness advocate and build this as a business?
I encourage you to begin as a wholesale customer even if you are wanting to build the business. It's important that you have at least 3 months learning + applying your knowledge of the oils before you begin sharing them with others. You can upgrade after 3 months to be a wellness advocate for free!
Q6. How will I know how to use the oils?
This is what I'm most excited to share with you: through your kit purchase, you become part of our HOL:FIT essential oil community which is one of the largest natural health communities in the world! We have education, health programs and lots of support for you as you begin this new journey! You cannot put a dollar amount on this value and it's certainly not something available on a retail shelf.
Q7. My uncle told me doTERRA is a pyramid scheme - is that true?
Pyramid schemes are illegal, but that term is thrown around alot. doTERRA is purchased through the network marketing model, which means that instead of the company investing into retail space, billboard ads or magazine/radio advertising ... they invest into people. So you are buying your essentials oils through me rather than through the CEO of Walmart or Amazon. And through that - you will experience what I believe is the best part of all of this, which is our community + education + access to our amazing health programs to guide you along the way! All things you wouldn't have access to if you were to purchase essential oils elsewhere.
The top 3 starter collections:
5ml bottles of:
Lavender, Lemon, Peppermint, Tea Tree, Oregano, Frankincense, Deep Blue, Easy Air, ZenGest and Onguard
Other Products:
Peppermint Beadlets (2)
The doTERRA Essentials booklet
15ml bottles of:
Lavender, Lemon, Peppermint, Tea Tree, Oregano, Frankincense, Deep Blue, Easy Air, ZenGest and OnGuard
Other Products:
Petal Diffuser
Essentials booklet
15ml bottles: AromaTouch, Balance, Frankincense, Lavender, Lemon, Peppermint, Wild Orange, ZenGest, Serenity, Tea Tree, Easy Air, OnGuard, 10ml Past Tense
OnGuard Hand Wash w/2 Dispensers & Toothpaste,
LifeLong Vitality Pack, TerraZyme, Correct-X, Peppermint Beadlets, Deep Blue Rub, doTERRA Lumo Diffuser, Fractionated Coconut Oil, Shampoo, Conditioner, doTERRA Essentials Booklet, Wooden Box

Another option I'd like to suggest is that you purchase the Healthy Habits Collection
and have instant + lifetime access to our Healthy Habits program!
With whichever collection you choose to start with, you'll receive a welcome email from me
connecting you to all of our team resources + programs!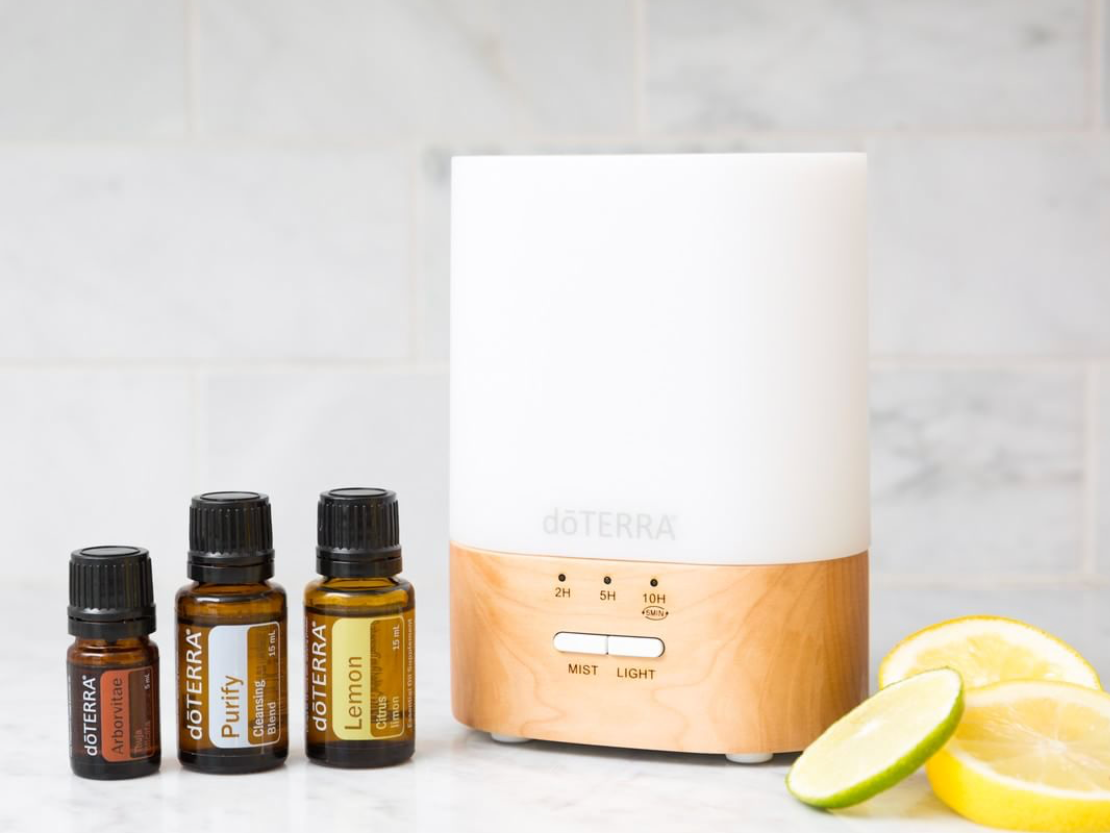 You've likely seen me share over on Instagram some of my fave combinations to put in the diffuser. Here they are all in one place.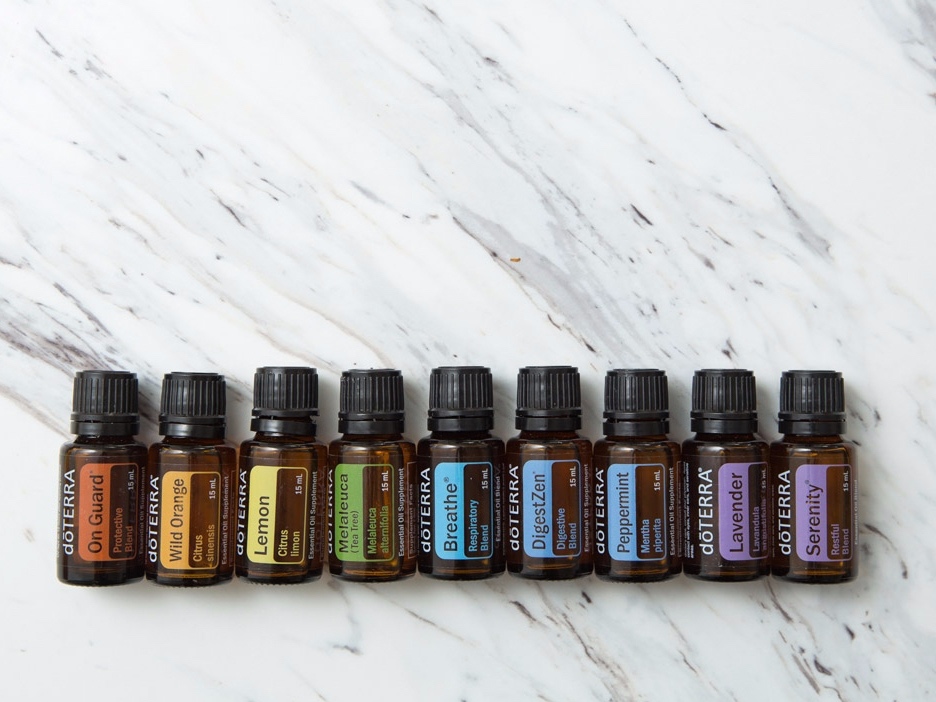 150 ways to use the top 10 oils
You may be wondering what you'll do with these oils when they arrive. But the new question will be what did I do before these oils?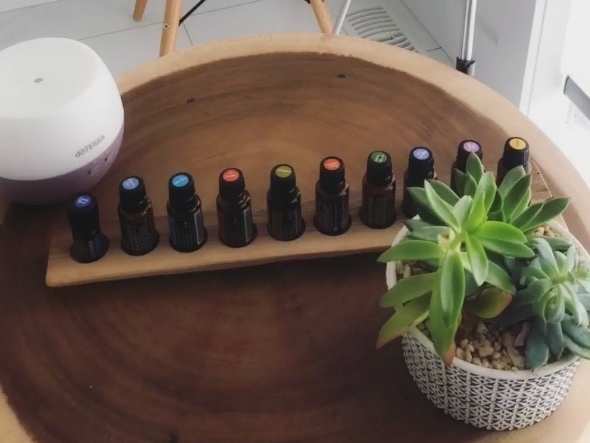 60 min essential oil class
Cozy up + learn about how I use the Top 10 Oils and why doTERRA is the largest + most trusted essential oil co. in the world.
are you a health influencer ?
I'd love to send you a little love package in the mail. Fill in your details to the right and I'll be in touch within 2 biz days 🌱