healthy by design
In this blog,
I'm giving you a simple health integration sheet you can work with each month as you tune into where your body is guiding you to honour it a little more.

I believe in taking little steps forward when it comes to our health, rather than trying to take it all on at once. This tool will guide you in doing that!
Enjoy and please share if you find value!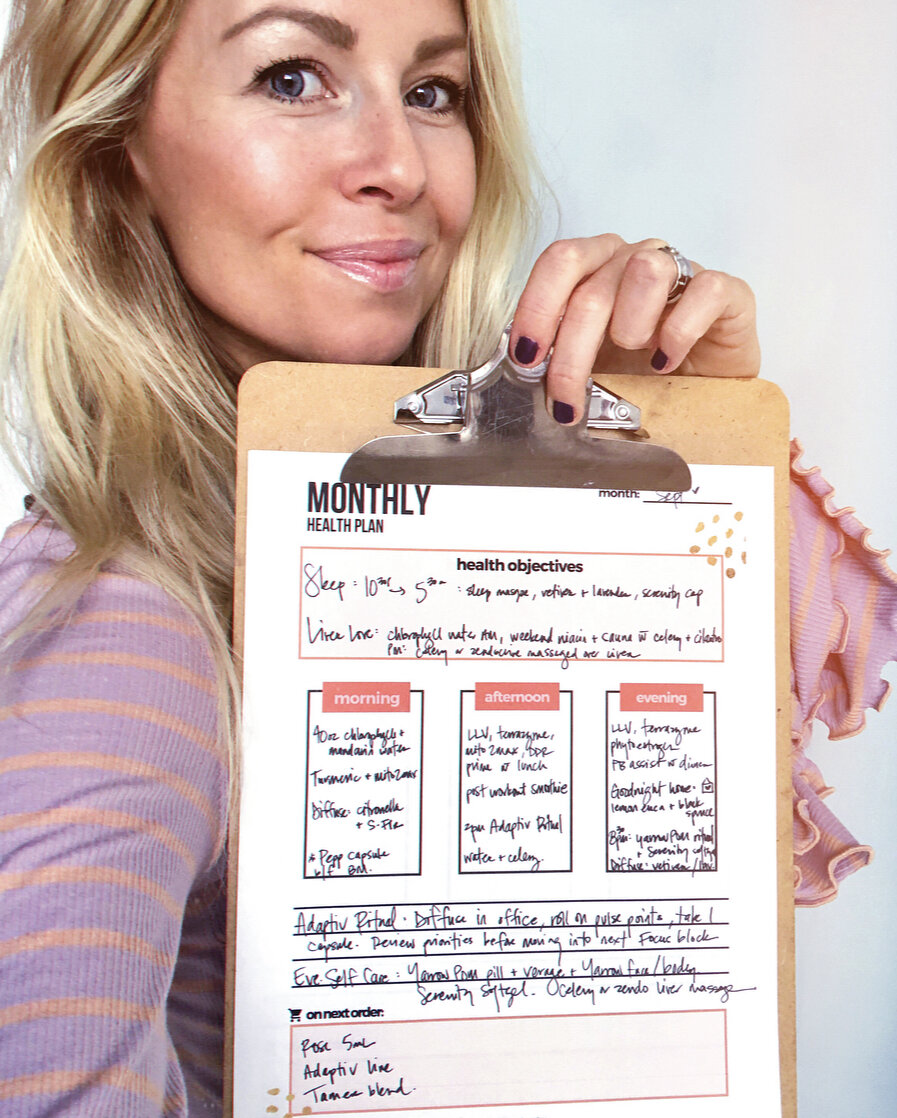 Taking care of yourself like you mean it.
We are busier than ever before aren't we?
Maybe you don't feel that way … but many do.

I'm writing to you if you just need a way forward.
You're wanting to make some big changes in your health (which instruct everything else), but you don't know where to start?

Welcome … this is where you start … In one area.

It's tempting to sit in overwhelm when we know there is so much we could change,
and so comfort kicks in and beckons us to stay right where we are.
To resist the guidance our body is giving us.

Let today be a new day for you.
Where you take time to tune into what it would look like to simply honour your body a little more in one area.
Start to write - what would that look like if it was simple?

What if you focused on one area of your health each month?
And what if each month simply built upon the last?
What if you go into change knowing that it's only the first few days that feel a little tricky?
What if you learn to trust yourself again through this process?
The what if questions are my fave.

Ok, so let's do this.
I'm going to assume that you've made the decision to bring doTERRA into your home.
If not - perhaps you will soon. (I'm here when you're ready)

I've been around the health block for 2 decades - I've seen a lot of things come and go.
The decision to bring doTERRA into your home will turn out to be one of your smartest ones.It puts you at an advantage. Much of what I'm going to share here is the smartest ways to integrate the oils, supplements + low tox products based on your health goals.




So here's what I'd like you to do:





First print this health integration form I created for you. It's nice to keep a little binder going so you can reflect on how things are moving from month to month.

Then, to help you have more clarity with what you want to focus on, flip through this digital lifestyle guide that doTERRA created. You might also want to watch the new product overview class I recorded for you.

Next, Fill in up to 3 health objectives you have for this month.
Perhaps they are: to feel more rested each morning + to have more energy throughout the day

Then, create a simple routine for morning, afternoon + evening that includes something that will help create this feeling for you. Going with the 2 examples I gave you above:

Morning:
Drink 20oz of water with 2 drops lemon oil
Take supplements with breakfast: LLV + Mito2Max + Terrazyme

Afternoon:
Drink 20oz water with 2 drops lemon oil
Go for a walk after lunch and massage peppermint oil on my temples

Evening:
Diffuse 3 drops lavender in bedroom.
Massage 2 drops cedar wood into chest and feet. Take a Serenity soft gel + journal before bed

Then ask yourself the simple question: "what needs to happen in order for this to happen?" Use the notes section of the sheet to answer this … ie) keep the oils you're going to use in the areas you need to use them

And last, I also gave you an area to capture anything you need to place on your next order. As you begin to feel yourself making the current small changes, you will feel inspired around what you can focus on next month. Health builds!



I also thought it would be helpful to give you an example of what a year could look like, focusing on one area each month:
Are you inspired to make some small changes that lead to big results?
I want to hear from you! Tag me on insta and show me your new plan using #holfitdailyplan

xo,

Ange



ps - I've also included clickable images below to take you directly to the link
Click any image below to expand or open up: