Your healthy green home
In this blog, I'm sharing a bit about my experience transitioning to a healthy green home over the last decade. You'll learn about a few of my fave simple DIY recipes to make and I've included a link for a home tour I did that shows you some of the stations + products we use in our home to create health.

I would also love to make it easy for you to begin this lifestyle by starting with doTERRA - the oils + products will supercharge your health + support you in living a low tox life! If green cleaning is an area of focus for you, I've created this custom starter kit for you.

You will love how easy + effective this makes it to live a healthier life …
Enjoy!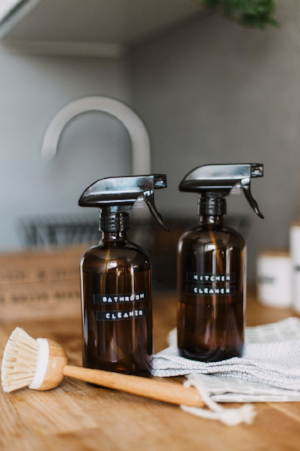 I remember the first time I read about how the indoor air quality of the average home today is at least 2-5x more polluted than the air outside the home.
It shocked me to think that a space where I should feel the safest, could be harming me because of what I was bringing into it.
CLEAN had a smell back in the 80s + 90s when I was growing up - a mixed brew of Windex, Pine Sol and Mountain breezed laundry.
And you know maybe back then, it wasn't causing as many issues as today because we weren't hitting our tipping point yet.
Today with the bombardment of questionable ingredients in our self care products, in our food, dependancy on medications and overall much busier, disconnected lives - our bodies are illustrating that we have tipped.
Once you start to learn, you can't unlearn.
And if you're committed to living your best life - you have no time to allow harmful chemicals to drag you down.
Especially when you discover that cleaning with nature actually makes the process joyful!
Yes I just said that
When I first rolled up my sleeves and little by little transitioned our entire home through my little DIY creations - I actually began to LOVE taking care of my home!
I haven't bought a single cleaner in over 8 years, and I'm excited to teach you the simple approaches.

I recorded this quick video to show you 2 of my fave green cleaning recipes:
To share my love of creating a healthy happy home, we recorded a LIVE tour with our Facebook community right here.

The reality is - nature has provided us the way, the entire time.
For example - did you know that NASA discovered that certain plants actually remove the harmful chemicals in your air?
For most people, the first step to changing their whole health begins with Green Cleaning - it's the launching pad.
Because it's a simple + effective transition to make, and it gives you the confidence to take on small changes in other areas of your life.




Here's a cool fact:
When you reduce your exposure to harmful chemicals, you will start to experience an upgrade in other areas - your emotions, your body system health ... suddenly your home feels more peaceful.

So I created the Green Cleaning eBook + videos to guide you through a week of transitioning to a healthy, happy, green cleaning home.
In the eBook I've given all the best recipes to make using simple ingredients like vinegar, baking soda,
castile soap and various doTERRA essential oils that have the perfect constituents for your DIY creations.
You can buy it for $17 right here.
Or, this eBook is my treat to you when you open up your doTERRA wholesale account!
I've created this custom green cleaning kit that will give you all the doTERRA products you'll want for giving your home the healthy green upgrade:
💌 Please email me at heyholfit@gmail.com if you setup your account as I want to send you some welcome goodies!I
If you enjoy green cleaning, I want to be sure you know about my
free diffuser guide - check it out right here.
If you want to see some of the other tools I love using to create a healthy green home - you can see them in my green cleaning shop
I can't wait for you to experience cleaning in this new and yes I said it, joyful way!
xx,










Ange