Coffee Enemas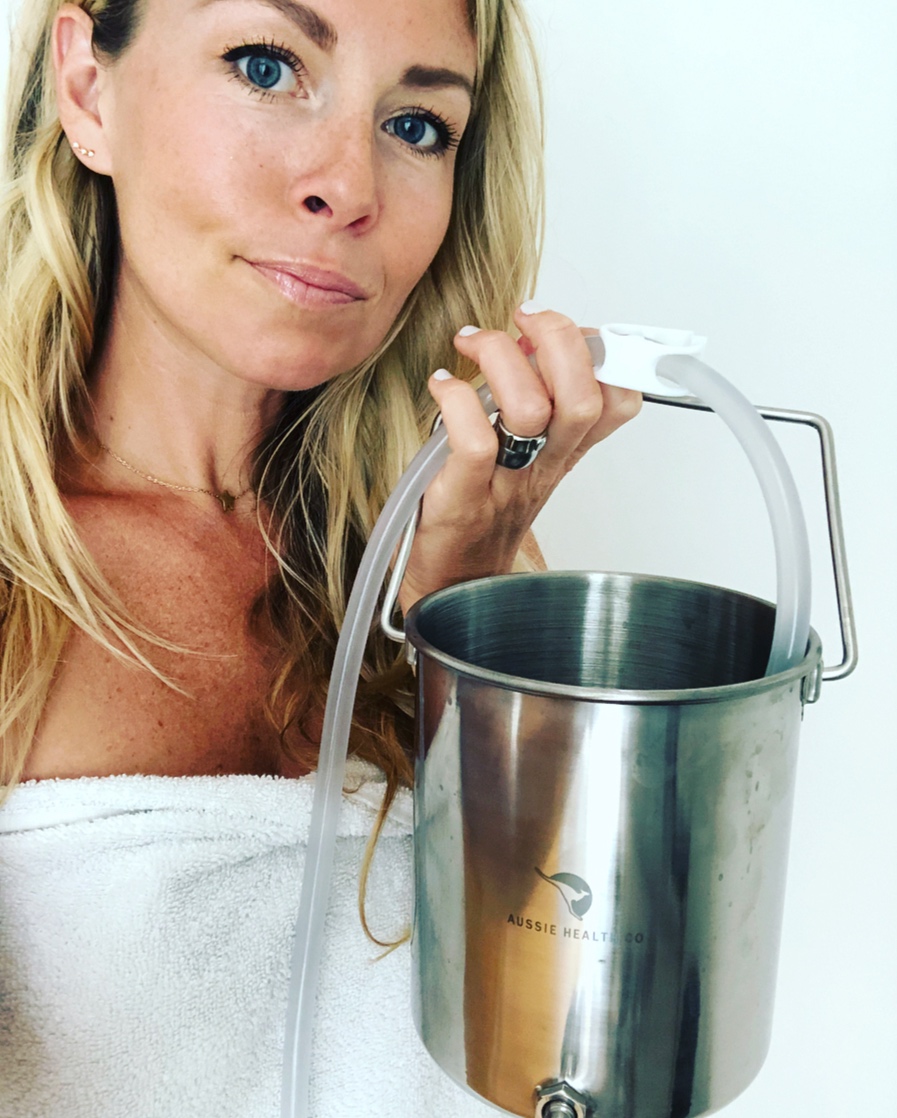 my first coffee enema experience
I did it.
I finally did it.
It's been on 'the list' for years and I finally drummed up the courage to do it.
I know what you're thinking, and it's exactly what held me back for years so stick with me…
I first learned of coffee enemas as a kid. My dad did them as part of his approach to evict the cancer (note - he used many approaches with including radiation, surgery, 40 day fasting, prayer, carrot juice, apricot kernal/cianide tinctures etc. And this was back in the 80's when you had to do alot of underground style research to access information)
I'm gonna make this post short, to basically connect you to the resources I found helpful when I decided to finally do the do.
First, I recommend reading this post + this post + this post to learn about coffee enemas in detail including the history of them and how to do them.
As you know, I'm an advocate for doing intentional cleanses throughout the year (such as my Ready Set GLOW program). But more importantly, I advocate for supporting your body on a daily/weekly basis to cleanse itself efficiently and to reduce the toxic load on your body.
🎙️I expand on this topic in this HOL:FIT Talks Podcast episode.


anyways back to the enema …
So, I took some time this morning to get all setup and I want to share a few tips with you now that I've experienced my first one.




Here was my process:
—> Prep the Enema Coffee: I prepared a press of 'enema coffee' while I was brewing my SuperBrew that I drink every morning. I added 4 tbsp of ground Enema Coffee (you must use organic, non-decaf, unflavoured coffee for this) to a french press and covered with 4 cups of hot water. I let it sit for 20 min and then pressed the bodum plunger down. Then I let it sit for about 40 min to cool down to be body temp.
Note - you can use warm filtered water for this if you prefer. Using organic coffee stimulates the body to dilate blood vessels + bile ducts because of the caffeine, theobromine and theophylline.

—> While I waited: I drank 20 oz of lemon water and sipped on my SuperBrew while doing my morning work.

—> Prep the Bathroom: I brought a diffuser in with lavender to create a calming vibe. I laid towels down on the ground and brought in a big glass of water, Fractionated Coconut Oil, doTERRA Digest Zen and my phone to play some music. All of this to help me chill out during this process.

—> Prep the Bucket/Hose: I took this up to the bathroom and found a way to keep the bucket higher than where I would be lying by hanging it on a towel hook. Then you want to rub Fractionated Coco Oil (FCO) on the insertion part. You'll also want to add FCO to your body at the insertion point (good use of words right?). With the valve closed, I poured the body temp coffee into the stainless steel bucket. I lied down on the towel, took my time inserting it and relaxed as best I could for at least 10 min.
Here's a good 8 min video that explains the process from a functional medicine doc - he also suggests pure tangerine essential oil in the enema for increasing flow.
—> The After: I found that I around the 15 min mark, my body was telling me it was done! Headed to the toilet and released it all. And loved looking at everything that came out (don't even try to tell me you wouldn't too haha). I cleaned everything involved in the process with doTERRA OnGuard Hand Soap + hot water. And then I soaked the 'insertion tip' in a bowl with hot water, hydrogen peroxide and a few pumps of OG soap.

Then, I took a shower, massaged a few drops of doTERRA Digest Zen with FCO into my tummy and drank some more lemon water. Got dressed, made a green smoothie and took my supplements
(all doTERRA: lifelong vitality, mito2max, terrazyme and PB assist probiotics)







Overall - loved it … I honestly feel amazing!
It obviously feels super weird when when the coffee starts flowing in but you do your best to stay relaxed + calm. You control the flow rate with a little valve so you just take it slow.
I felt this rush of energy, it's a deep feeling of cleansing and if you want to look at what comes out of you (of course you do haha), you'll be amazed.
My plan going forward is to do this every weekend, when I do some other cleansing rituals such as niacin flushing in the infrared sauna and my Sunday Scrub.
I've added the Stainless Steel Enema Bucket + Organic Coffee I used for this,
to my detox shop if you want to grab the same ones I use.
To purchase doTERRA oils + supplements at wholesale pricing, click here.
Have you ever done a coffee enema?

xx
Ange